There's a stupid (hoping temporary) bug in Wizz Air website's configuration causing users, which are trying to unsubscribe from Wizz Air mail offers to see strange errors, they should not ever see.
First fuckup is, that you are not automatically unsubscribed after clicking proper link in each message, but instead have to manually enter email address, you want to unsubscribe. This is enforced by law in many countries, but it looks like Wizz Air does not take even a bit care about that matter.
Second fuckup is, that when you actually enter your email address and hit the Unsubscribe button, you can see as pretty picture as this: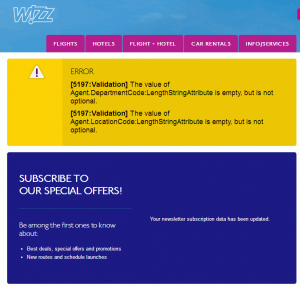 Isn't that pretty, folks?