It turns out that number of fuckups and wasted things in the new Google Calendar design gets bigger and bigger. Not only Google Morons introduced a lot of new shits, but also wasted something what was working pretty perfectly in previous ("old") version of Google Calendar!
Liked previous post? There's more to come!
---
Desktop. Huge fuckups
1. You can't just click an event and edit its title. You could in "old" calendar. Only Google fucks and idiots know, what is the reason behind disabling this very useful functionality.
2. They've disabled right-click menu on event's title! In previous calendar, if you had an URL in event's title, you could select that title, right-click it and make use of wonderful Go to item. Now, you can't. Reason? Explained above.
3. You can change event's color quickly by right-clicking it. Great! And (still!) only those twelve, dully, shit-looking colors!
4. You can't select only part of date or time (i.e. only month or just minutes, to quickly change only this part), because Google Idiots decided that it will be cool to select entire field each time you click it. Now, you have to enter / correct entire value or use those dully drop-downs.
5. The Find a time tab is a complete mistake / misunderstanding, as it shows events from... a random calendar. Sometimes it shows just events from the same calendar as event that you're currently editing (and randomly -- sometimes all current day's events from that calendar and sometimes just a few of them, i.e. only recurring ones).
And other times it show you only events from other calendars (and again -- all of them or just some), but never from all of these calendars.
And it never, ever shows them all, i.e. you can't precisely plan a time for given event, because in Find a time view you will never see all current day's event, i.e. all those events that you will see once you leave current event's details editor.
6. Keyboard shortcuts shortcuts in general calendar view? Like clicking an event and hitting Delete to quickly delete it? Forget, maaaan! Obvious? Your mother was obvious! Uncle Google said "no"!
7. Keyboard shortcuts shortcuts in event's detail view? Like hitting Enter while editing an event't title to quickly save changes and exist detail view? You've got to be kidding! Who said that new Google Calendar will be usable?
8. Description editor (in event details view) is so wasted that it randomly removes spaces between words and line separations between paragraphs and lines of text.
You can have a perfectly formatted description text only to find out, after saving and reopening event details view, that you have many words glued together, with no previous space between them. Or many lines with empty, separator line between them simply removed: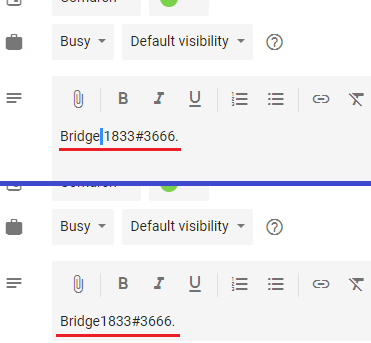 9. Undo function simply isn't working sometimes! I click Undo, I see "Undone" and... event stick in the very same place! Even page refreshing doesn't help.
Desktop. Smaller bugs
1. You can't put an URL into Location field, because it will be rendered as simple text, not clickable. You have to put it into Description field to have it clickable in event's summary.
2. There's a stupid bug in item add view. Follow these steps to uncover it:
click anywhere within calendar to add a new item,
click on a Reminder to switch tabs,
click on Doesn't repeat (next to circled arrow) to open repeat / recurrence menu,
click anywhere outside opened menu (except on title field) in an attempt to close it.
For some stupid reason instead of menu being closed you're punched with "Custom recurrence" window, which you then have to close.
3. If you display event preview, you can see pretty much a lot of event's details. If you select text next to: date/time, location or reminder, copy selected text and paste it to any editor, you'll get what you expect to get, i.e.: just the selected text.
If do exactly the same with: description or calendar name, you'll get selected text copied along with some stupid, useless and pretty much pissing off additions like: Description:, Organiser: and Creator:.
In addition, values for last two fields (i.e. "Organiser" and "Creator") will be doubled. I.e. you'll get Organiser: ITFuckupCalendarITFuckupCalendar instead of expected Organiser: ITFuckupCalendar or actually just ITFuckupCalendar.
4. Inability for a quick event's duplication was already mentioned.
Mobile. Large fuckups
1. You can provide any location text for Location field in desktop version. However, you must provide some recognized location in mobile! I.e. you can't write manually, you must start typing and then select anything from suggestion list. Failing to do so, trying to write anything, cause Location field to be cleared upon event save and its value to be removed.
2. You can provide just a birthdate in desktop version of Gmail Contacts. In mobile Gmail you must put entire date (or else it won't be saved).
To quickly workaround this bug you can write some fake date, if you only know birth year, i.e. 1/1/1991. Google Calendar will start showing that person's birthday at given date. You can then go to desktop version of Contacts in Gmail to correct this date (i.e. remove day and month parts).
Contacts will allow you to save such date (with exclamation point that it is unrecognized) and then... bang! Magic happens... Even though you removed day and month part, Google Calendar is still showing that person's birthday in "old" date.
---
Yeah! Go ahead, Google Fucks! Keep going that way! You needed eight damn years to give us a general Google Calendar upgrade and after all this hard work you gave us such a wasted piece of shit!