OKI engineers proved that you can create a driver setup program, that is not only as less user-friendly as possible, but also isn't able to correctly detect a printer, it is supposed to install drivers for. In 2016 OKI developers proves that such things are still possible.
As for anti-user-friendliness let me just say, that driver installer starts as every typical installation program, in which you're going through following steps of selecting language, device and then a list of drivers (like PCL, PS, scanner driver etc.). Once you make drivers selection there is no Next button, just the Exit one.
You must be smart enough to figure out that you're expected to press a tiny icon with disk drive and three small arrows image. Because, this is for OKI engineers an ultimate button to conclude installation process. Screw yourself, if you're looking for some Next or Finish buttons! No way, not in here!
And the second part goes later. If you find that button, click it and start installation process, then you may face situation like in below screenshot: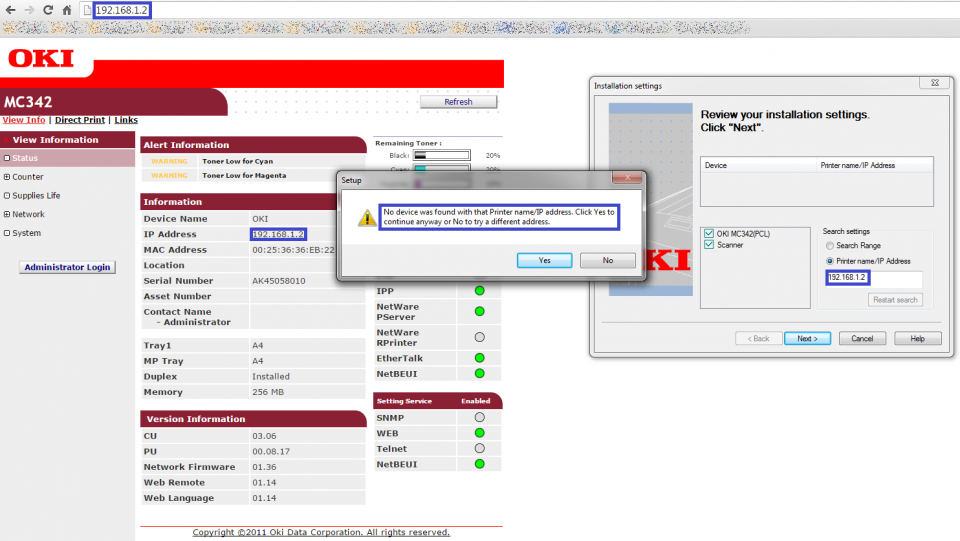 A printer is properly connected to the network, correctly configured and accessible from browser, but driver setup program run on the very same computer fails to find it.
I think, that don't need to underline that once I ignored above error, driver was installed and it was able to print on my network drive (surprise!).